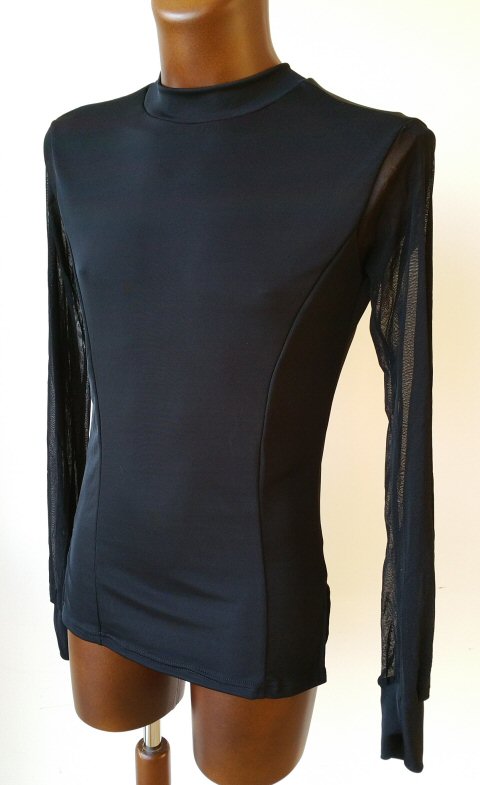 Flat front Latin shirt with mesh sleeves - Black
By: DancesportUK
£39.00
(exc VAT)
was £49.00
Product code: E-MS057
Two way stretch soft touch shirt with mesh sleeves. This is a top only, with no underpants
Xtra Xtra Small

Xtra Small

Small

Medium

Large

Xtra Large

Chest

28" - 30.5"
( 71 - 77cm)

30.5" - 33"
( 77-84 cm)

33" - 35.5"
(84 - 90 cm)

35.5" - 38"
(90 - 97 cm)

38" - 40.5"
(97 - 103 cm)

40.5" - 43"
(103- 109 cm)
Delivery times: up to 1 week depending on destination
---
---
Sizing information
Men

XXS

Xtra Small

Small

Medium

Large

Xtra Large

XXL

XXXL

Collar
measured at the base of neck

13.5"
(35cm)

14"
(36cm)

14.5"
(37cm)

15"
(38cm)

15.5"
(39/40cm)

16"
(41cm)

16.5"
(42cm)

17"
(43cm)

17.5"
(44.5cm)

18"
(46cm)

Chest
measured just under armpits

31"
(80cm)

34"
(86cm)

36"
(91cm)

38"
(96cm)

38"
(96cm)

40"
(101cm)

40"
(101cm)

42"
(106cm)

44"
(112cm)

46"
(117cm)

Waist
at belly button level

26"
(66cm)

28"
(71cm)

30"
(76cm)

31.5"
(80cm)

31.5"
(80cm)

33"
(84cm)

33"
(84cm)

34.5"
(88cm)

36"
(92cm)

38"
(97cm)

Body length
from top of shoulder to crotch

27"
(69cm)

29"
(74cm)

31"
(79cm)

31"
(79cm)

31"
(79cm)

32"
(81cm)

32"
(81cm)

32"
(81cm)

33"
(84cm)

33"
(84cm)

Sleeve length
from armpit to wrist

22"
(55cm)

22"
(55cm)

22.5"
(57cm)

22.5"
(57cm)

22.5"
(57cm)

22.5"
(57cm)

22.5"
(57cm)

22.5"
(57cm)

22.5"
(57cm)

22.5"
(57cm)

Sleeve length should be at least 1 inch longer than the length of your arm from armpit to wrist to avoid a "too short" look when you stretch your arm
Measurements are given when the fabric is completely unstretched. All our fabric are stretchy and will stretch at least 2 inch easily. You can therefore go slightly wrong and choose one size too small or too large.



Additional info
Due to storage limitations we have some sale stock to clear. This item is available for immediate dispatch.
We have only one picture per style in the database, so it may happen that the colour of the picture does not match the written description.